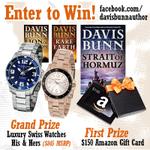 The series finale in author Davis Bunn's Marc Royce Adventures, Strait of Hormuz, releases Tuesday, November 5. To celebrate the launch, Davis is hosting a sweepstakes on his Facebook page.
Grand Prize: His & Hers luxury watches ($845 MSRP)
First Prize: $150 Amazon Gift Card (just in time for your holiday shopping).
Entering is easy. Click the link
http://woobox.com/ipi8wk
to go directly to the app. Input your name and email address . . . you're done!
Or go to Davis Bunn's Facebook
page
and you'll see signs and arrows that point to the app.
Increase your chances of winning by entering once per e-mail address per day through November 29 at 6 p.m. Pacific Time.
Get bonus entries by sharing the contest with your Facebook friends and Twitter followers (just follow the prompts on your screen after entering).
If you are not a Facebook user, you can enter via the Official Rules page. You'll see a form about halfway down that page where you can put in your name and email address. Or you can send a blank email to
straitsweeps@aweber.com
Winners will be announced November 30, 2013 on Davis Bunn's blog.
Enter often to win!